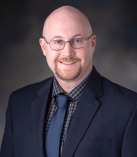 Trevor Lee
Executive Director
Department: Staff
In his role as the Executive Director, Trevor provides leadership for the Development Council for Buffalo County Board of Directors and staff. He directs much of his focus toward showcasing Buffalo County as a premier location for business location and expansion, facilitating projects, assisting decision-makers in order to grow jobs and the tax base, and engaging public and private sector leadership to best position Buffalo County for continued success.
Trevor holds a bachelor's degree in Political Science from the University of Nebraska and a master's degree in Urban & Regional Planning from the University of Colorado. Before leading the Development Council, Trevor spent ten years as the lead economic development director in Beatrice, Ord, and Ravenna, Nebraska. Trevor has and continues to serve on a number of boards across Nebraska and the Midwest, including the Heartland Economic Development board and as President of the Nebraska Economic Developers Association.
Trevor and his wife Amy are both natives of southwest Nebraska and have three children. If you see Trevor outside of work, you are probably one of his hunting or fishing partners, as he loves pursuing wild game and spending time outdoors with his family.