UNK, UNMC break ground on nation-leading Rural Health Education Building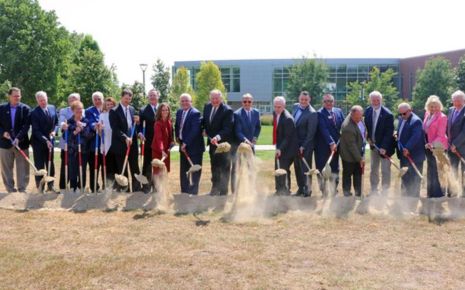 KEARNEY, Neb. — It was an event described as one of the defining moments in university history.
That's what university leaders said about the groundbreaking ceremony for the rural health education building, which will be built on the University of Nebraska at Kearney campus. The 110,00 square-foot project will help to educate more than 600 students annually with a goal of addressing shortages in healthcare workforce in rural Nebraska. University leaders say it's impossible to overstate its impact.
"There's never been a project of this size, of this scope, of this scale ever done in the United States," UNMC Chancellor Dr. Jeffrey Gold said.
"It's going to change rural Nebraska forever. It's going to change our campus forever," UNK Chancellor Doug Kristensen said.
"When they write the book about the history of the University of Nebraska, now in its 153rd year, what has happened here today will become it's own chapter," NU President Ted Carter said.
UNK and UNMC officials had the idea for the Rural Health Education Building more than a decade ago. They first built the Health Sciences Education Building, improved the campus infrastructure and then figured out how to pay for the planned complex.
$35 million is coming from donations, including money from the City of Kearney and Central Community College. The state approved the use of $60 million of federal American Rescue Plan Act money.